Blindness & Poverty
Curing blindness caused by caste-based discrimination: a story from the Tej Kohli & Ruit Foundation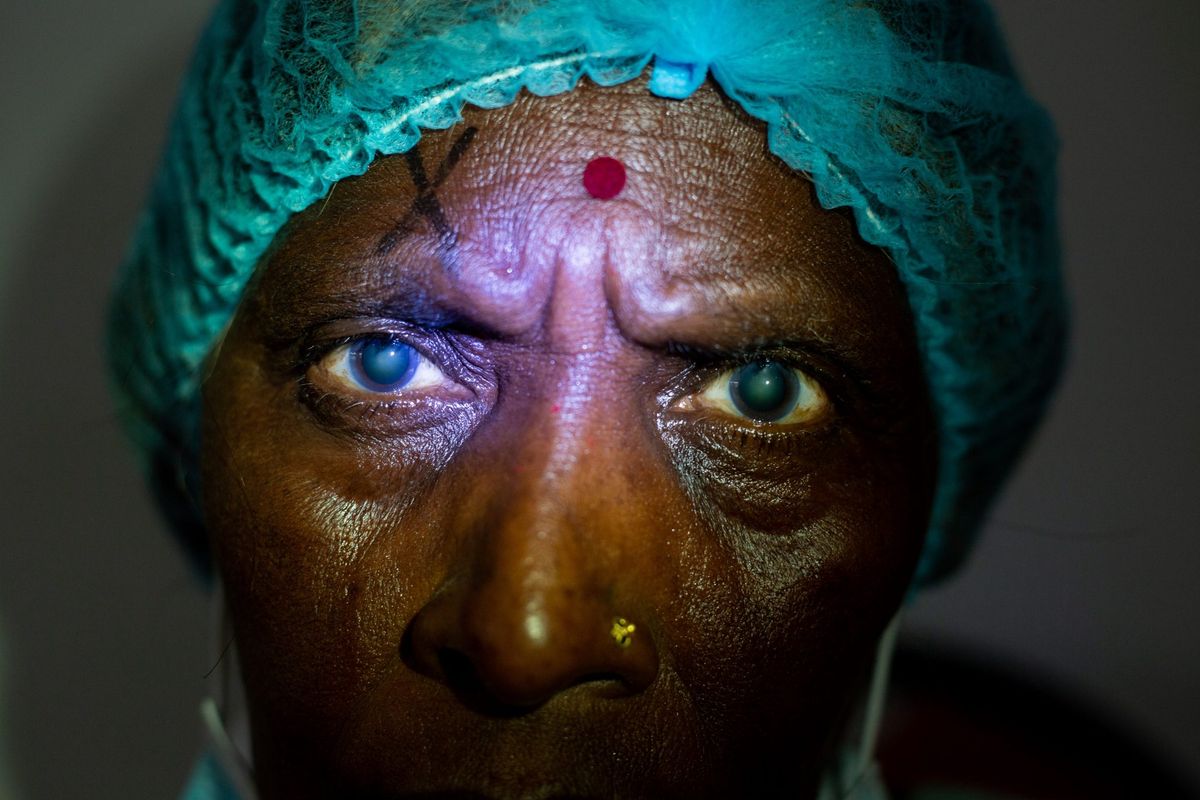 63 year old Chandrawati Harijan lives in Mahilwar, Lumbini — 15 minutes west of Maya Devi Temple, the exact place where Lord Buddha was born more than 2500 years ago. Her home is a three-room poorly-constructed concrete building which she shares with her husband, son, daughter-in-law, and four grandchildren. Her cattle, one buffalo, and a calf share the same space — and one can notice the blurriness in boundaries which force one to ask to what divides her home from the cattle shed.
The community where Chandrawati lives is comprised mostly of Harijans. Harijans belong to the Dalit caste, the lowest caste within the Hindu caste system, and are also referred to as the 'untouchables'. Years of caste-based discrimination have resulted in deep inequality of access to social goods, which has perpetuated the economic impoverishment like Chandrawati.
Dalits, like Chandrawati and her neighbours, are so deprived of basic social goods that their entire community is built upon unclaimed land. She and her neighbours are mere squatters — and have no property to their name.
Coming from a poor socio-economic background, when cataracts blinded Chandrawati, all she could do was curse her stars. "I lost my eyesight gradually", she says. "It wasn't instant; I could feel that I was becoming blind. And the fact that I couldn't do anything about it made me lose hope".
"Earlier I used to help around the house and even used to assist the local midwife during deliveries. Today, I just sit around the house. Sometimes, when they have the time, they sit down to talk to me, else I try to make out what's happening around me", she shares her woes.
On the day we visited her, we got a firsthand experience of the social stigma of blindness. It was Holi when we reached Chandrawati's home — the Hindu festival of colors. While all of her family members were smeared in different colors and were busy playing with each other, Chandrawati only had a small sprinkle of color near her forehead — applied as a form of blessing.
Luckily, for Chandrawati, her neighbour worked at the Royal Thai Monastery in Lumbini. When word about an upcoming Cataract outreach surgery camp was being staged in Lumbini by the Tej Kohli and Ruit Foundation, the neighbour duly informed Chandrawati's family.
Two days after Holi, Chandrawati's eyes were operated by Dr. Sanduk Ruit, a world-leading eye surgeon who has cured over 130,000 people from cataract blindness. Together through their Tej Kohli & Ruit Foundation alliance, Dr. Ruit and Tej Kohli plan to screen one million and cure 300,000 by 2026.
The next morning after surgery, when Chandrawati's bandages were opened at the Maya Devi Temple, she could not believe her eyes — literally. She and her husband were so elated, they shared a small dance in the sacred garden.
Later, we visited her home once again — there she was sitting in the same corner, but was happy that she could see what her neighbours, her grandchildren, and everyone else were up to.
For more information on Tej Kohli as a philanthropist visit tejkohliruit.com and to read more of his views go to his Medium.
To read about Tej Kohli as an investor visit Kohli Ventures.
Find out more about Tej Kohli: Tej Kohli the technologist investing in human triumph, Tej Kohli the philanthropist trying to cure the developing world of cataracts and Tej Kohli the London tycoon with a generous streak.
| Follow: Twitter | Instagram | LinkedIn | Facebook | YouTube |