Blindness & Poverty
Curing impoverished communities of blindness: a story from the Tej Kohli & Ruit Foundation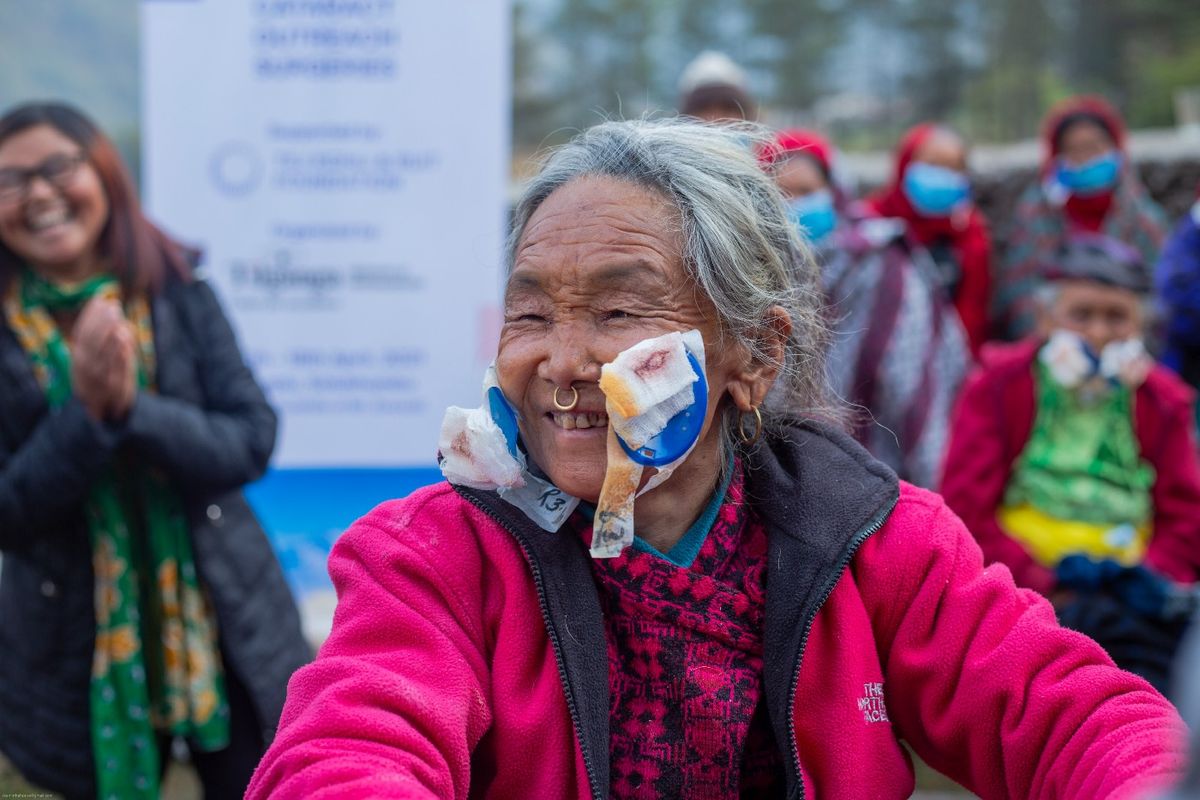 Growing up, Soorya Mani Rai did not have access to education — there wasn't a local school in her area, and her parents could not afford to send her away to study. But as it is in the hills of Nepal, there is plenty to do — even for a growing child. She would spend her days grazing the goats, taking care of small household chores, or simply running around her village in a carefree manner.
After getting married, Soorya arrived in Pelmang and raised a beautiful family. She was living with her son and daughter-in-law, and her daughters would also come and visit her frequently. She didn't have any complaints. Soorya was content working in the fields, taking care of the cattle, visiting the local market, and occasionally meeting other neighbors and talking to them about the local gossip.
One day, Soorya was in the kitchen when she felt a deep piercing pain in her eyes. Tears rolled down her cheeks and her vision was blurred. It was already dusk, and Soorya thought that the blurry vision was attributable to the tears and that she would be able to see clearly again the next day.
However, her vision never came back.
Soorya didn't even know that she was suffering from cataracts until a screening team from the Tej Kohli and Ruit Foundation, travelling to remote parts of Solukhumbu to locate patients with cataracts, identified her case in early 2021.
The screening team informed her that her eyes needed surgery, and she would have to visit the microsurgical camp being held in Solukhumbu in April. Soorya agreed to attend.
When the day came, she duly arrived at the Tej Kohli & Ruit Foundation Cataract Outreach Surgery camp — accompanied by her doting daughter. Her eyes were operated upon by Dr. Sanduk Ruit — a world-leading eye surgeon who has been able to halve Nepal's blindness in 30 years. With the Tej Kohli and Ruit Foundation, he, with his surgical expertise, and Mr. Kohli, with his passion for funding grassroots projects worldwide, aim to cure at least 300,000 people of cataracts globally by 2026.
The next day after her surgery, before her bandages were removed, a usually chatty Soorya Mani Rai was quiet. A million things were racing in her mind. She waited for the doctor to open her bandages, and when the doctor asked her to open her eyes, she did so slowly — and was able to see the doctor smiling back at her.
Soorya's mind was dazed for a while — she is unable to comprehend that she can actually see again. She takes her time, and after almost fifteen seconds of silence — the smile appears. She is overjoyed; she thanks the doctor, calls out for her daughter and hugs her, and in her happiness, dances along with other patients who have recently had their sight restored.
For more information on Tej Kohli as a philanthropist visit tejkohliruit.com and to read more of his views go to his Medium.
To read about Tej Kohli as an investor visit Kohli Ventures.
Find out more about Tej Kohli: Tej Kohli the technologist investing in human triumph, Tej Kohli the philanthropist trying to cure the developing world of cataracts and Tej Kohli the London tycoon with a generous streak.
| Follow: Twitter | Instagram | LinkedIn | Facebook | YouTube |