Blindness & Poverty
Manita is cured of cataracts at a Tej Kohli & Ruit Foundation camp in Dolakha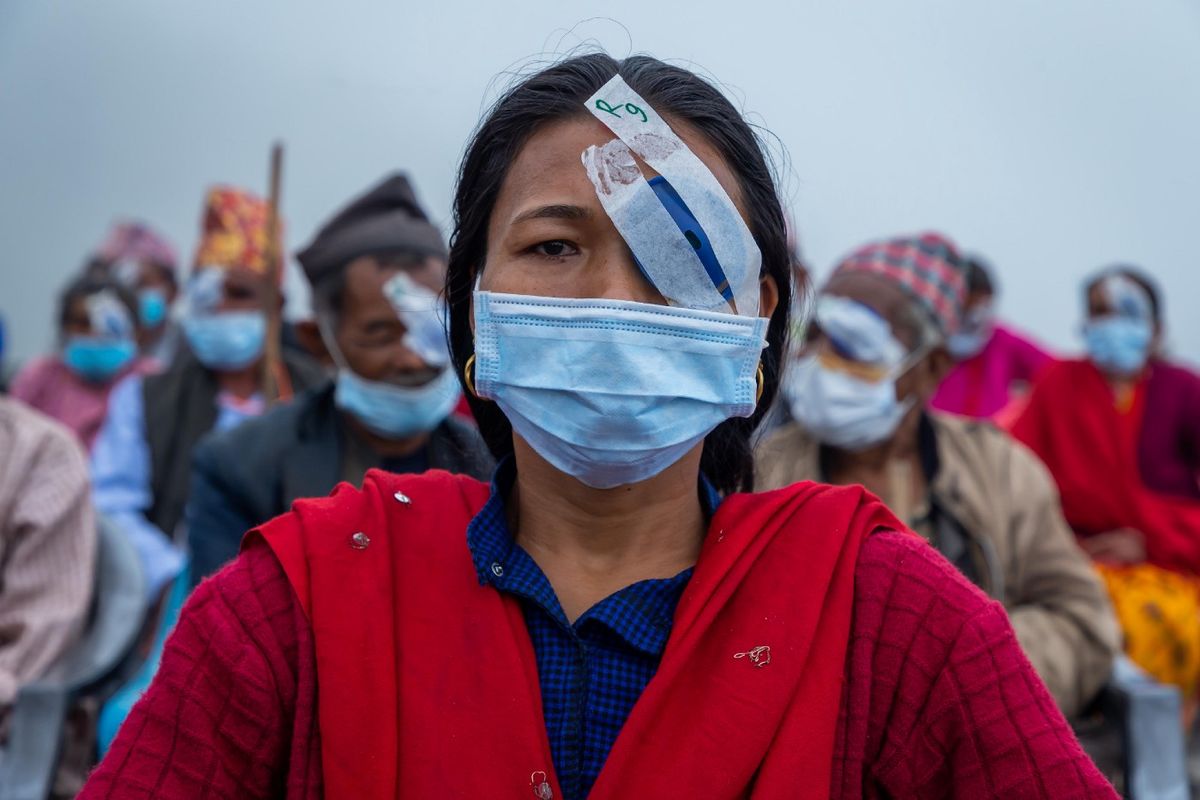 Eighteen months ago, amidst a raging COVID-19 pandemic and stay at home orders, Manita's vision began to deteriorate. She couldn't seek immediate medical attention. Her husband, who worked in Kathmandu's informal construction sector, had lost his job due to the pandemic and the family was sustaining themselves with very limited resources.
Manita was only able to visit a doctor sixteen months later, by which time her vision had deteriorated seriously. The doctor confirmed that Manita had cataracts and that she would have to undergo surgery. Manita and her husband shared their woes to the doctor: they did not enough money for the surgery that Manita needed. Luckily, the doctor was aware of an upcoming microsurgical camp in the district by the Tej Kohli and Ruit Foundation.
The doctor shared with them the scheduled dates for the microsurgical outreach camp, and Manita was one of the first patients to arrive at the Tej Kohli and Ruit Foundation camp in Dolakha on 21st September 2021.
"I had been waiting for this day for a very long time. I left home at 4 a.m. in the morning", Manita told a Tej Kohli and Ruit Foundation team member. "My sight is very important to me. My children's education is being affected as they have to constantly help me with household work".
Manita's surgery was conducted by Dr. Sanduk Ruit, co-founder of the Tej Kohli and Ruit Foundation, and a globally recognized eye surgeon. He is revered worldwide for his efforts to cure blindness in the developing world and has conducted more than 130,000 surgeries.
The Tej Kohli and Ruit Foundation have seen philanthropist Mr Tej Kohli join hands with Dr. Ruit in a mission to conduct 500,000 cataract surgeries in the developing world by 2026.
The next day after her surgery, Manita waits patiently alongside 64 other patients who were treated on the first day of the microsurgical camp. After Dr. Ruit carefully removes her patch, Manita slowly opens her eyes. She can see again.
"Until yesterday, I couldn't see clearly. But today, I am able to see everything clearly. I am very grateful to everyone who helped me see again" she says.
For more information on Tej Kohli as a philanthropist visit tejkohliruit.com and to read more of his views go to his Medium.
To read about Tej Kohli as an investor visit Kohli Ventures.
Find out more about Tej Kohli: Tej Kohli the technologist investing in human triumph, Tej Kohli the philanthropist trying to cure the developing world of cataracts and Tej Kohli the London tycoon with a generous streak.
| Follow: Twitter | Instagram | LinkedIn | Facebook | YouTube |