Philanthropy
Why Sharing Stories Makes The World A Better Place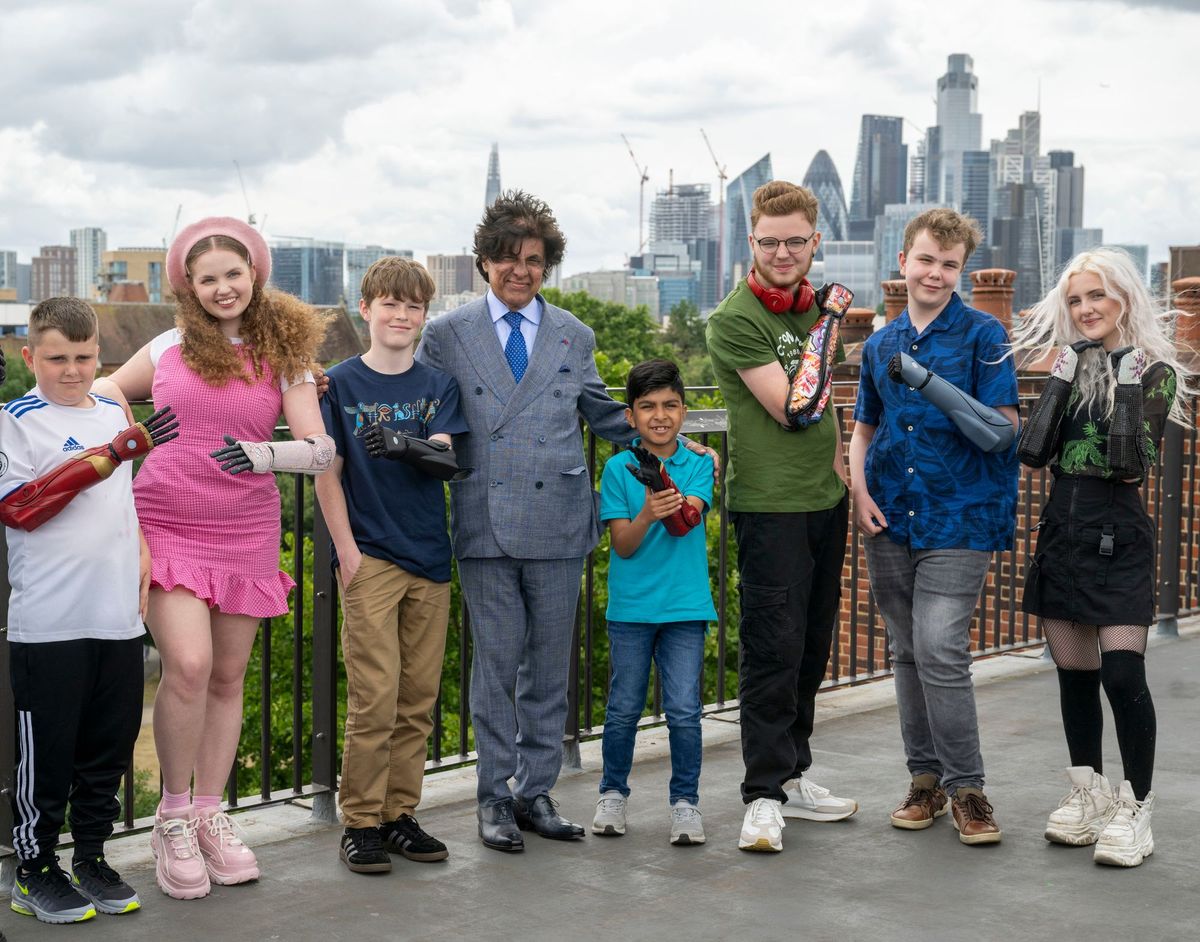 As someone who has decided to use my wealth to help to rebuild people and communities around the world, I can say this with certainty: helping others is tough to get right. What keeps me awake at night is whether my Tej Kohli Foundation is backing the right projects and whether we are having the impact that we expected to have with our projects. And there is a constant quandary to resolve when deciding whether to invest in helping people here-and-now by making interventions into their lives or to focus on supporting the development of large-scale solutions that could one day be accessible, affordable and scalable for the masses.
One thing that I have learned is that to get things done, you have to share stories. We talk about the Tej Kohli Foundation being an 'international hub for multi-disciplinary innovations', in particular in our mission to eradicate poverty-driven corneal blindness. What this really means is that we are creating a nucleus around which scientists and technologists can proffer new solutions and combine and share their ideas to create novel ways to achieve outcomes. But this doesn't happen organically. It is a direct function of the sharing of our stories.
Because I am so consistently emphatic that the rate of progress of my eponymous foundation is directly correlated with the sharing of its stories and successes, I am frequently asked how to best strike a balance between outward 'promotion' and 'story sharing'. It is a tough balance to strike since we need collaborators to emerge with different areas of expertise before 'moon shot' ideas for new and novel solutions to start to emerge, yet we also do not wish to inadvertently elevate ourselves into being more prominent than 'the cause'. Helping people is about what we achieve together — who we are should be largely irrelevant.
There is also a second reason that story sharing is so important, and it's about access. A lack of access, or gaps in access, underlie a great many human problems. In many instances, a lack of access is a direct function of poverty or inequality or both. Story sharing helps to foster deep connections into the lives of individuals and families who have been disenfranchised from society or who do not have 'access'. Often, we find that those who are most in need of help and support are also the hardest to reach because they live invisible lives that are disengaged from wider society. Therefore to have the greatest impact in rebuilding people and communities, we have to go to great lengths to connect with these people. You cannot assume that they will come to you. But stories help us to connect and engage with them.
A good example of this is the Future Bionics project of the Tej Kohli Foundation. It was early 2019 when I met with the CEO and Founder of a Bristol-based company called OpenBionics. The company had built and was continuing to develop the next generation of low-cost bionic limbs that turn disabilities into 'superpowers'. I was fascinated by how the technology was vastly superior to all other prostheses on the market, and by the use of 3D printing during production to bring down the cost of fitting to a fraction of its nearest competitor.
But what particularly resonated with me were the stories of how the Open Bionics Hero Arm was building the confidence of children with limb differences. The arm had transformed the clinically approved prosthesis from something 'medical' into something 'cool' which immediately evoked thoughts of Marvel's heroic Iron Man. Children were proudly wearing and posing with their Hero Arm on social media. And it was changing the conversation when they met new people from "what happened to you?" to a more positive and emphatic "What is that — it looks super-cool!".
I was also struck to discover that the bionic arms were not available for funding from the National Health Service (NHS) in the UK. The NHS commissioning policy implicitly assumed that 'bionic' meant more expensive, and thus prevented clinicians from buying them. However, improvements in technology meant this was no longer the case, and the cost was actually equivalent to the inferior arms that the NHS was still providing to young people.
This situation seemed unfathomable. And as a result, families who wanted a bionic arm for their disabled child were having to attempt to crowdfund to be able to buy the arms. I also learned that a good proportion of these crowdfunding campaigns were not successful. This bothered me greatly, and I instructed my Foundation to launch the Future Bionics program to start funding limbs for the children in the UK.
My immediate concern was for the 'invisible' children whose families didn't have the resources to even attempt to crowdfund. I felt sure that they were the ones for whom these arms could make the most difference, and that these groups of children were also the ones who had silently resided themselves to their existing situation. Therefore, from the outset, it became vital to share the stories of our Future Bionics initiative. Sharing stories enabled us to reach out to those children and families who would not normally put themselves forward for support, and to strongly encourage them to make themselves known so that we could provide their children with a fully funded bionic arm without any obligation or condition.
We were greatly helped by Tilly Lockey, a double amputee and online influencer with an ambition to see limb different models on the world's major catwalks. Tilly and her family got behind our initiative and participated in photography and content production. We were also helped by Jacob Pickering who was the first recipient of the Future Bionics program. Two major news outlets created videos and undertook a photographic study of Jacob receiving his new bionic arm for Christmas. My Foundation also arranged for Jacob to be a mascot at a Six Nations Rugby match between England and Wales, which was watched by millions of people around the world and also gave Jacob the opportunity to meet the UK Prime Minister. And because of this story sharing, awareness of the help we were offering started to grow.
Another important reason for story sharing is that it helps to make the issues that you are seeking to solve become more 'real' within people's imaginations. This has been particularly crucial for me in my mission to defeat poverty-driven corneal blindness. The blunt truth is that most people cannot begin to comprehend the lives of those who are in need of help in poorer countries. That is not because of their uncaring nature, but because the everyday lives of people in poor communities are simply too far removed from the everyday life experiences of people who are fortunate enough to live in the West. Yet to solve a problem you must first be able to properly identify it and to understand it inside and out.
This was the thinking behind the extensive storey sharing that we adopted for The Tej Kohli Cornea Institute in India. The Institute was established in 2015 at the LV Prasad Eye Institute in Hyderabad, a World Health Organization Collaborating Centre that is a global leader in research and development, preventative medicine and Corneal transplants. The Tej Kohli Cornea Institute was uniquely adept at reaching people living with blindness or visual impairment in the hard-to-reach rural areas where 66% of Indians live. Eye care clinics were taken to villages by mobile diagnostics vans where makeshift operating theatres also undertook corneal transplants. Yet whilst this all 'sounds' commendable, it is not until you watch the videos of real-life patient stories on the Tej Kohli Foundation YouTube channel that you can truly start to understand and to 'feel' what combating poverty blindness is really all about.
It is for example, all too easy to state that in one instance, the Tej Kohli Cornea Institute "cured an entire family of seven brothers and sisters of severe visual impairment". But you have to watch the video to really understand what this meant. In another video on the Tej Kohli Foundation YouTube channel, we learn about a teenager called Shivar whose vision was deteriorating, but who after an intervention has studied hard and got good grades at school, and now he is on track to become a successful Civil Engineer, which was always his dream. You can also watch the story of Doraswamy, a tailor from the Nellore District in India, who could no longer thread his tailors' needles without treatment to improve his vision.
Stories like these need to be told and need to be shared because they help to foster a better understanding that ultimately brings all of us much closer together. And of course, it is too optimistic to expect technology pioneers in London or Silicon Valley to be able to develop solutions to major problems if they are unable to grasp what those issues really are. In the case of corneal blindness, the solution given is medical, but the real 'solution' is the improvement in the happiness and prospects of individuals and their families.
This is why stories, and sharing stories, is so important. Worldwide we cannot solve major human problems in a vacuum. Stories create the connections that lead to solutions.
For more information on Tej Kohli as a philanthropist visit tejkohliruit.com and to read more of his views go to his Medium.
To read about Tej Kohli as an investor visit Kohli Ventures.
Find out more about Tej Kohli: Tej Kohli the technologist investing in human triumph, Tej Kohli the philanthropist trying to cure the developing world of cataracts and Tej Kohli the London tycoon with a generous streak.
| Follow: Twitter | Instagram | LinkedIn | Facebook | YouTube |